So my parents and I were going home from a dinner. I was driving, and Mama was in the passenger seat. When we got to C5 Libis, Mama blurted out:
"We haven't visited
PAPA PYO
!"
Papa ... Pyo?
Could she have been talking about ...
Papa P? Pyo ... lo?
We haven't visited Piolo Pascual? Is he a long-lost cousin or brother??? (Because the resemblance is striking, obviously.)
That's when I realized we were passing in front of ...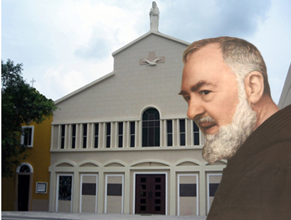 The
PADRE PIO
chapel.
I will end with that because I have run out of words.